By Jason Teo – Entrepreneur, photographer, how things work geek.
Created on 13/06/2020
Sinks and taps are important interior design accent pieces which are forgotten when homeowners think of HDB BTO  or resale flat renovation.
Do take note of these useful tips for your kitchen sink in your  BTO or resale flat so that you buy the right product, lastest design and models to make you the proud homeowner of a designer kitchen.
Sink size and functional needs relative to cabinet kitchen design;
According to sanitaryware specialist Mr Poernomo Sing from AER Sanitary Singapore, decide on the functional needs before you head out to any bathroom warehouse such as;
1.  how big the sink you need and the available space relative to the kitchen cabinet, this is often the limiting factor in the selection so take note of your counter depth and length of the sink countertop.
2.  The depth of the sink, i.e., what kitchen utensils do you have or need to wash in it. Remember you will have many pots and pans to wash after a cooking storm or makan (gathering) session. 
3.   What material would I prefer, this we will talk more about sink materials slightly later if you are not sure.
4.   Do I prefer the sink to be sitting top or beneath the countertop. 
Quality And Style For The Chic Look
Stainless Steel Sinks
Stainless steel kitchen sink is the most popular material used by interior designers in a modern kitchen or what you might call Scandinavian interior design. Thereafter consider this question, do I need a single large or double sinks combined for cabinet kitchen design? Let's see the pros and cons;
Single Bowl Sinks;

Single Bowl Useful For Small Kitchen Space, overmount on countertop
Pros: A single, deep basin means you can easily soak or wash a big pan or prep large quantities of food.  Young couples who don't need to cook at home, this is a practical consideration.
"This kind of sink is very versatile, as young families don't really cook much and could just pile the dishes for washing up later," according to Mr Sing.
Cons: You are limited to one wash at any one time and soaking a large pot requires a bit of juggling since you would often need to wash other things as well in a small kitchen.

Double bowl sinks practical choice for the kitchen, overmout on countertop
2. Two basins of differing sizes (a 60/40 or offset sink).
These are larger sinks with options reachable with a single or double swing head taps.
Pros: Two basins allow you to perform separate tasks, such as cleaning dishes and preparing food, with ease. A Dual offers the convenience of cleaning up in the large basin and prepping food in the smaller one. 
Cons: A smaller basin makes it harder to wash and soak large pans.
"For clients who want flexibility, a double sink can be the way to go," says Mr Sing "There are also a number of people who are accustomed to working with two basins, and they don't want to change."
Mounting Of Sinks found in kitchen design ideas
When purchasing sinks you will be asked if you would like to overmount or under-mount as different accessories used are different. Let's talk about the pros and cons.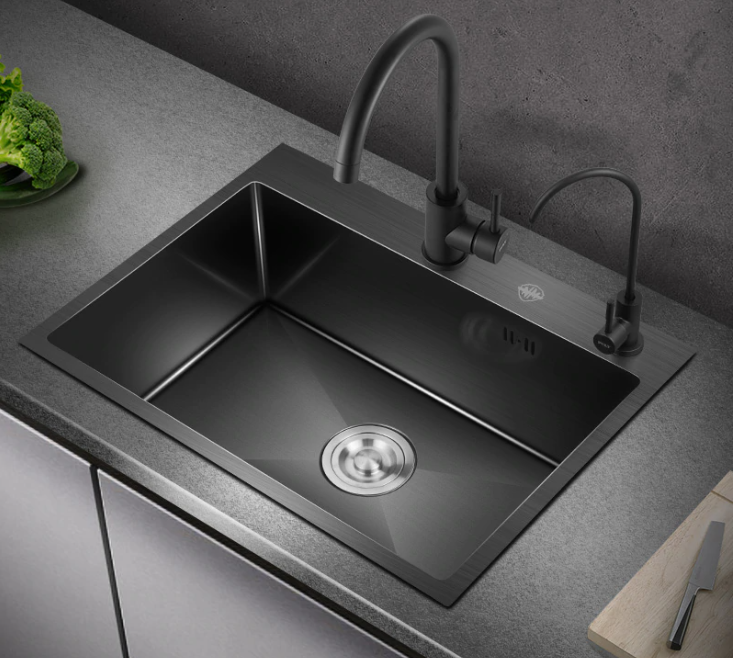 Scandinavian sink design with overmount method
Overmount Method
Modern stainless steel sinks look neat when mounted on the surface (overmount) as the rim thickness of 2-3mm is not noticeable. It is recommended to fasten the sink all around the countertop with silicon to avoid the seepage of water into the cabinet which will happen eventually on heavy washing sessions.
I personally prefer this method for hygiene reasons as I am able to see and remove visible mold growth on the surface of the countertop.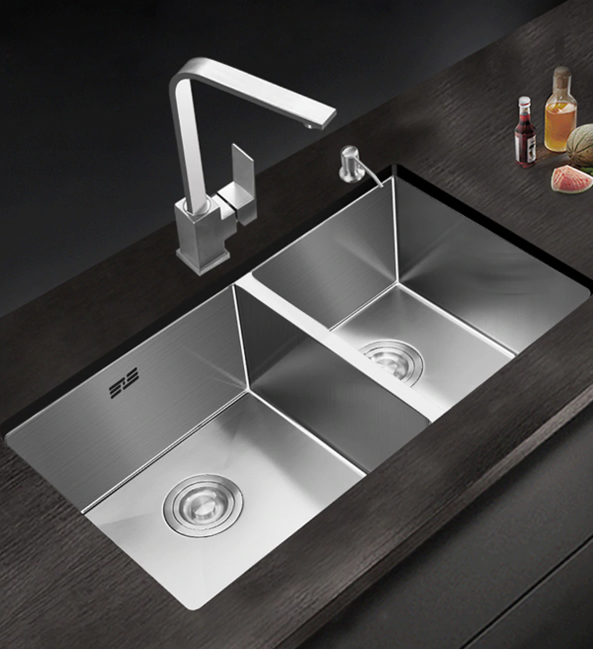 Sink under-mount beneath the countertop
Under-mount method
The under-mount method uses screw clips and industrial glue to secure the sink onto the underside of the countertop. After the sink has been attached I would recommend applying a layer of silicon seal between the edges of the sink and countertop as a second line of defense against water seepage. 
This results in a cool borderless modern kitchen sink, however but with the passage of time mold and waste spatter will likely to form underneath the counter edges which is rather difficult to clean. There is also the risk of sink detachment with the passage of time.
 Stainless steel sink trend in minimalist interior design.
Straight edges and the boxy look is in trend with colours of;
Silver – evergreen but hardy with prolonged use.
Nano Back – trendy jet black look but prompt to scratches eventually from utensils or broken glass, not irritating if you are not picky.
Others – such as bronze and rose gold are available from certain suppliers.
Buy jet black with high-quality sink at bulk purchase prices here.

Porcelain sinks both under-mount 
Porcelain Sink The Choice Of Vintage Lovers
Pros: This is a legendary hardy material that renders a vintage style.
Cons:  Porcelain tends to chip, leaving a black mark. Metal pans can also leave black marks or scuffs that are difficult to remove. For people who are looking for colour options, not  much are offered here in Singapore

Granite composite sink under-mount
Granite composite sinks
Pros: Highly durable sink made from granite particles and polymers, price is more expensive, not viable for import due to its weight, this material resists scratches and chips. It does not show water spots.
Cons: Composite surfaces can turn lighter in colour with the passage of time due to the constant scrubbing and cleaning of the polymer (a form of plastic) material, repolishing is possible with but difficult and expensive. From personal experience of owning one dark grey sink which did age within 6 years of use but looks good in many ways and functional, I have even transferred it over to my new kitchen which still gel well with the new design. Would I still go for one, no is my answer as stainless steel sinks are still the winner in terms of the cool looks.
Waste discharge pipes beneath the kitchen sink.

Built-to-purpose downpipes that comes with modern sinks
I strongly recommend asking for the purpose-built waste discharge pipes that accompany the sink when you buy a new sink from the vendor as you don't have to have to pay plumbers to built those ugly white PVC ones, becareful some sanitary shops sold them separately to make more money due to their promotional offers.
 – Buy your quality sink here.
Sink Accessories


Accessories like knives block, anti-choke waste trap, in-built dish soap dispenser, wash-dry tray
Pros: Sink manufacturers are making the sink work harder with a myriad of accessories built to perfectly fit on top of the basin. These are either sold with the stainless steel sink or separately. The choices include cutting boards, prep bowls, knife blocks, colanders and racks for dishcloths or cleaning utensils. 
Cons: However if your interest is in cooking such accessories may not fit your expectation if you subscribe to the "basic is better" school of thought, sink accessories are not for you.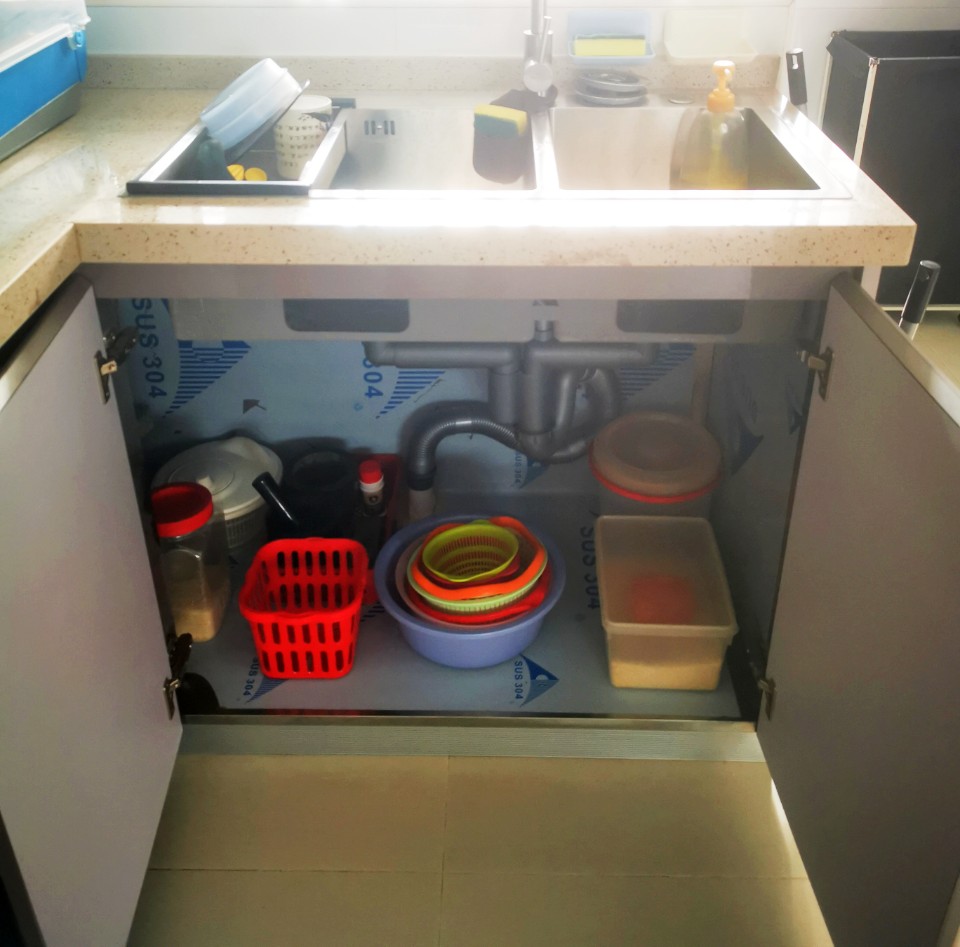 Stainless steel cabinet looks no difference from plywood ones
Non-corrode Stainless steel sink counter
Homeowners faced the problem of the counter door "dropping out" due to water damage over time. This will happen to both types of mounting we mentioned about earlier, so what can you do to prevent it, take these two precautions;
1.  Insist on using silicon to seal all around joints and gaps between the countertop and sink during installation and renew that seal every 1-2 years. 
2.  Pay slightly more for waterproof material such as waterproof plywood, engineer wood or stainless steel cabinet for your counter. I personally prefer a stainless steel cabinet, as indestructible from water damage and the outlook is the same as wood with the prices of such cabinet have gone done with Chinese import.
Buy your corrosion resistance sink counter here.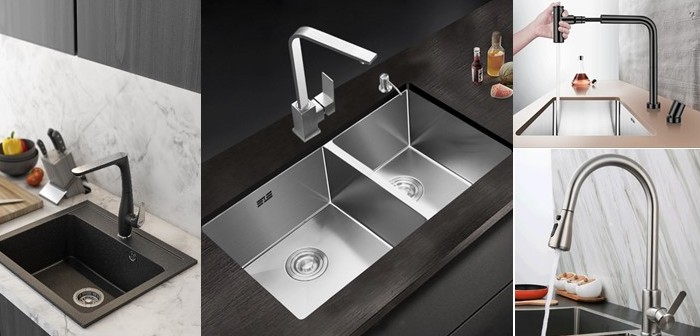 Taps, what to look out for.
Selecting the right quality tap is important to your sanity as irritating water leakage and constant tap changes will drive you crazy. Often cheap taps sold by sanitary shops or bathroom warehouse will not last more than two years.
So the question you will need to ask is what do you do when the water starts leaking, do I buy a new one every one to two years or replace certain parts of the taps to stop the irritating leaks, there come the important issues relating to quality and warranty besides looking good.
The price will equate to the quality of taps you purchase in a certain degree, it also depends on the brands and experience and honesty of salesperson you buy from. There are three criteria to determine which brand you should buy to save you the aggravation;
1.  the litmus test is the company willing to give you a five years warranty is the quality generally, such products with longer warranty will cost slightly more but in the long run, you will save on precious time and replacement cost.
2.  if the tap is engineered such that there are spare parts for replacement if the taps wear out.  Well designed products will ensure the replacement of wear-out parts, the salesperson will often not border but sells you some buy and throwaways are signs that the product has not been engineered well.
3.  if the supplier is willing to come down to do the replacement or repair the tap even though you are willing to pay for a small service charge shows their commitment to their products.
Get your tap at bulk purchase priced that comes with 5 years warranty with and service here.

Waste Bin Trap Doors Are Convenience Every Kitchen Needs
Disposable Bin Covers
There is now a good alternative to scooping up wet waste and throwing it into plastic bags nearby and seeing all the smelly water dripping all over the place. The installation of this simple gadget door, similar in concept to the dustbin door found in commercial buildings, makes throwing food waste a simple and neat task. It mounted flush on countertops let wet waste drop directly into the trash bin below the counter without the usual mess. Get your cool gadget swing door here
Designer Taps On Promotional Offers
Grade this opportunity to buy AER and other designer taps at 25% discount offers end 31st May